2008, August 17: "And again a new world record price for a 1955 Lancia Aurelia B24S Spider America at www.goodingco.com auctions in America. The car was sold for the fabulous price of $572.000.

Click here for the complete article

---

2007: "And again a new world record price for a Lancia B24 Spider America at R.M. Auctions in America.
The spider was sold for the fabulous price of $550.000 (Excl. auction costs)..."

Click here for the complete article.

---

2005: "Again new record price for a Lancia B24 Spider America at Monaco auction.
A beautiful Spider was sold for a spectacular EUR 242.000 (incl. auction cost)..."

Read here the complete article.



2004: "A new world record price was achieved for a much admired 1955 Lancia Aurelia B24 Spyder America which was hammered down for a staggering EUR 204.900..."

Click here for the whole article.
Let me introduce myself.
My name is Almar John Gouweloos.
I'm the son of a pedagogical teacher and was born on the 27th of August 1965 in Elst, Holland
My hobbies are:
- Driving with my beautiful Aurelia
B24 spider
- Driving with antique carriages and horses
- Composing music and writing lyrics
When I was three years old I moved to Dordrecht in Holland. At that age I was already interested in things that move with an engine. At the age of 8 I bought my first moped, and first I wanted to know how it worked. I did some research and worked on the moped, but the result was that it never worked after that. After a few years things were going better and better and I made the mopeds faster before I sold them. In those days I drove an MV Augusta 3-wheel car (similar to the one on this picture).
At the age of 12, I became more interested in the girls, so I began a new career as DJ with our drive-in show named Disco Dynamite. Instead of putting mopeds in the back of my 3-wheel car, I transformed my car into the perfect transport for our disco show. We played at school, sportclubs and private parties. At the age of 15, I got a contract to be DJ at the local disco. My specialty was mixing the songs smooth into eachother.
I also bought my first car at that age, an Alfa Romeo GTV 2.0. It was a fabulous car. I can still remember the low chairs and the revolution counter right in front. A new passion was born: Alfa Romeo.
At weekdays I was busy with repairing the Alfa Romeos, while in the weekends I still worked as a DJ. And at the age of 21, I had to choose which job I wanted to do for a living. I preferred the Alfa Romeo, and a new company, named Milano, was born.
In the first years we sold 200 to 300 cars a year. In the beginning of the nineties the leasing of Alfa Romeos was getting very popular in the Netherlands. After two of three years the lease companies sold all their cars to dealers like Milano. Milano only bought Alfas and Lancias, because we are the specialist of these cars in Holland. We sell between 1100 and 1500 cars a year. You can get more info about this on our website, www.milano.nl.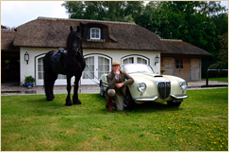 I'm very interested in classic Italian cars, the Aurelia Spider b24 America is my favorite. Together with my wife Monique, you can often find me in Italy driving my beautiful Aurelia Spider. We have lots of fun with this car. It's not only one of the most beautiful cars in the world, it's exclusive, not more then 240 cars are build. It is also very practical (lots of loading space) and reliable. It's a real eyecatcher at a Concours D'elegance and the driving qualities are fabulous. It's also possible to get entrance to the Mille Miglia. These are the things that made me decide to start a new website about this fabulous car, named the Aurelia Spider.
We want to buy Aurelia Spiders B24 America (1955) all over the world. When you have an Aurelia Spider and thinking of selling it, please call or mail us anytime. We're interest in cars that are in concours condition or restoration projects. When we have an Aurelia Spider for sale, you can find it on this website (click here).
With kinds regards,
Almar Gouweloos
Zernikestraat 75
3316 BZ Dordrecht
The Netherlands
Tel: +31-(0)78-6515200
info@aureliaspider.com